One year ago, I thought about diversifying my revenue streams and taking a serious step in the freelancing track. I started with Fiverr and Upwork, and I can say I have learned a lot and it was really an amazing experience in dealing with clients from different cultures, professions, and backgrounds.
If you are looking to start as a freelancer on one of the digital platforms, so here we are! I will tell you about this amazing platform to sell your services and scale your professional network up.
What is Fiverr?
Simply, Fiverr is an online freelance marketplace that connects freelancers (sellers) with clients (buyers) looking for specific services to be achieved through a digital platform.
On Fiverr, you can offer different services. Each service offered on Fiverr is called "Gig". You can start any service/gig at 5 USD and you can reach hundreds and thousands of dollars with extras. So, the buyers buy their services in the form of Gigs as each Gig contains all information and details about the service.
Is it necessary to be professional in English to sell on Fiverr?
Please, don't let the language barrier hold you back from being active and self-reliant.
Here is a piece of good news, on Fiverr there is no need to talk to your clients on phone at any time like some other digital platforms. You have to be able to communicate with them and deliver the right message, that's all! Over time, you will find that your English language has improved dramatically 🙂
Now! Let's be practical
My tips for your first steps.
Step 1: Create your account on Fiverr
You can create your own account easily by clicking on this link.
Step 2: Brainstorm the Gigs you want to set up (services to be delivered)
When you start on Fiverr as a seller, creating your own gig is the first thing they tell you to do. At this stage, I advise you to take some time to work out your ideal niche and the services you are going to offer.
To do that, go and look at the services on the website through the buyer's-eye-view. You can do that easily by switching the status in the navigation menu to buying.

After that, use the menu buttons at the top to present the main category that matches the services you want to offer. You can overview sub-menu with subcategories by hovering over any button. Explore the most related ones and make a draft for your own gig.

Step 3: Know your competitors
Once you've decided what you plan to offer, the next step is to figure out who you are . You can find them easily by filtering the results and choose the best sellers or sellers' locations, etc. This will tell you which gigs are already popular, and give you a sense of what kind of services you have to offer in order to be popular as well!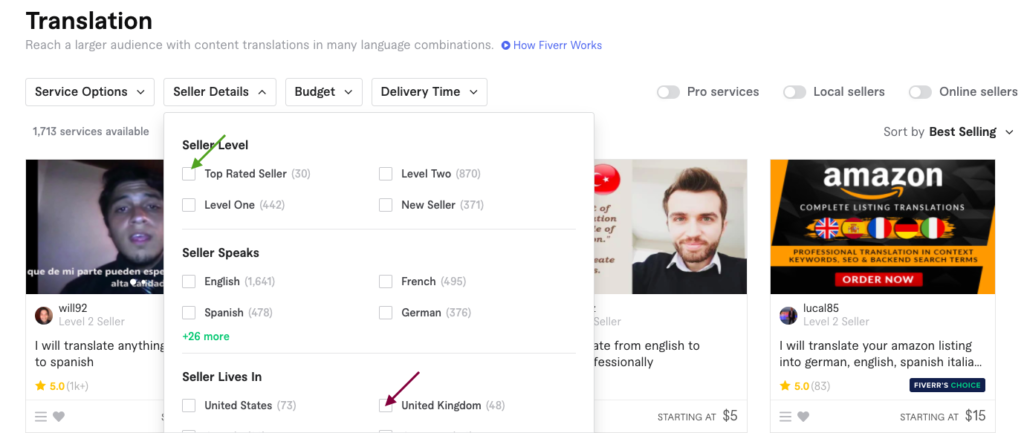 Step 4: Create an attractive and appealing title.
Your potential clients decide to click on your gig based on the title you present. So, it's important to highlight your unique selling proposition and tell them why your gig is worth their time. You just have 80 characters to title your Fiverr gig.
Step 5: Choose your subcategory, tags and price your gig.
It is important to choose your subcategory and tags wisely, as they will show up as filtering options for buyers.
Regarding pricing, look around at what other freelancers are charging for their services as well as what features they're offering. The truth is, their are many freelancers provide the same services. If you want to stand out and gain some attention, you're going to have to be competitive. And to be competitive, you have to know how your competitors manage their work and what they offer.
It's important to use three packages in your Fiverr gig as it can boost your earnings. The most important thing is to explore the packages of your competitors and figure out which features should be included in your packages and why you are different!
Step 6: The mic is yours! Tell your story and write a motivating description
Write your story.
Write a gig description that makes potential clients want to cooperate with you, hire you, and place the order.
Some important notes regarding the gig description:
Tell buyers about the benefits they will gain.
Tell them why you are the right person to work with, what are your previous experiences, examples of previous projects and so on.
Direct them to links contains examples of your work.
Good luck 🙂